| | |
| --- | --- |
| Posted on January 26, 2011 at 9:29 PM | |
I recently came across a pretty pillow tutorial on the  Cluck, Cluck Sew blog and knew it would be perfect for my daughter's room.
Her room is black, white and fuschia.   I knew that I had black felt at home so I decided to try a pillow with black on white fabric with a black flower as practice before attempting one using the material from the bag in which her comforter set came.
I also didn't want to make an 18" pillow so I calculated the proportions for both 14" and 16" pillows.  
14" Pillow Dimensions:
Pillow Pieces: 15 x 15, 15 x 12 & 15 x 9
Circle Sizes: 2-3/4" & 2"
Pillow Insert 14"
16" Pillow Dimensions:
Pillow Pieces: 17 x 17, 17 x 13 &17 x 10
Circle Sizes: 3-1/8" & 2-1/4"
Pillow Insert 16"
After I was satisfied with the 14" pillow I found some fabric that was perfect for my living room, (the front was a discontinued fabric sample piece which they were selling at JoAnn Fabrics for $1) to make a 16" pillow.
When making this one I made a few "adjustments" from the first.   I started shaping the petals from the beginning round and when I transitioned from the large to the small circles I did one round combining both large and small, 1 large, 2 small, etc.  and then continued with the small circles to the center as written in the tutorial.
I rarely make things for myself, so I was thrilled with the results and now I want to make one for everyone I know.   Next is the 18" black, white and fuschia for my daughter.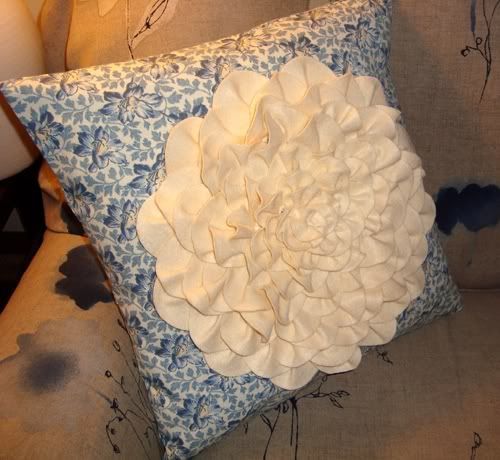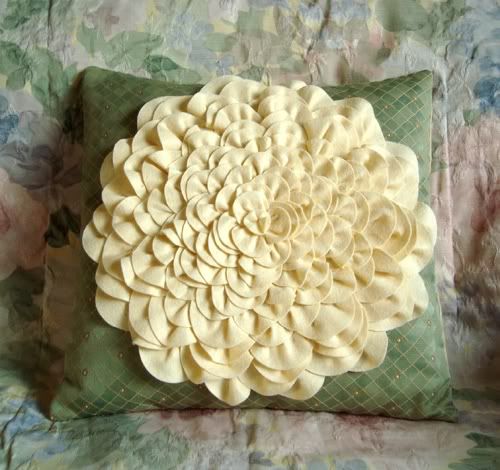 This is a great project with endless combinations, so give it a try.